Fall 2020 Tournament Schedule
*Tropical Thaw has been added as a replacement for U12, U14 (both) and High School Teams.
*High School schedule is proposed as an in state tournament schedule at this time due to COVID concerns. In the event that we can travel out of state we have an alternate schedule proposed. For high school players we will have a set fee for the in state scheudle and once we determine if the New York tournaments are on as scheduled and we feel safe travelling we will send a separate registration link to high school players for the additional cost of going out of state to these top notch showcase events.
FALL 2020 SEASON INFORMATION
PLEASE REVIEW CAREFULLY - ALL CURRENT INFORMATION PERTAINING TO BOYS TEAMS CAN BE FOUND ON THIS PAGE
TRYOUTS FOR FLX LACROSSE
Tryouts for our boys teams for the fall season will take place on September 13th, 2020.
Times for tryouts will be as follows:
9:00am - U8 Little Scoops (K, 1st, and 2nd graders) and U10 Players (3rd and 4th graders)
10:00am - U12 (5th and 6th graders) and U14 Players (7th and 8th graders)
11:00am - High School Players (9th-12th graders as well as 8th graders that are HS brirthdate eligible - see below)
**Age based groupings based on US Lacrosse - generally most players fall into graduation based groupings. Players that are reclassified for graduation year will be forced to play up with their age grouping.
Tryout Fee:
There is no fee for our tryout. Invitations for the fall season will be sent out after our tryouts.
Tryout Location:
Holiday Park
1150 G. Harold Martin Drive
Fort Lauderdale, FL 33304
**We will be using the turf fields across from the tennis complex. Look for our tents and flags**
USEFUL INFORMATION REGARDING FLX LACROSSE TEAMS - UNIFORMS, TEAM STORE, PRACTICES, TEAMS:
UNIFORM and fanwear INFORMATION
For the fall 2020 season we will be reusing our current uniform sets that were used this past summer. If you played lacrosse for us this past summer you should have a uniform set. For reference this is the set we will be reusing: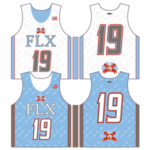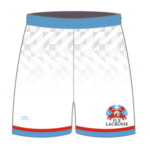 If you need a new set you will need to purchase  your uniform through our team store which is a separate purchase. During invitation acceptance and registration we do ask for uniform sizes but we only do this to verify everything against the team store.
TEAM STORE LINK WILL BE HERE WHEN STORE IS ACTIVE
When you are placing your order for uniforms you can order 2 pairs of shorts if you would like them. Once you add the uniform it will ask for sizing of the top and bottom, when you select the bottom size you can change. the quantity. Also, you will be asked to pick 3 uniform numbers with the first one being your favorite. We issue uniform numbers in the order which the uniforms are placed so please make sure to get your uniform order in ASAP.
TEAM STORE CLOSES SATURDAY SEPTEMBER 24th AT MIDNIGHT!
Please take care of your uniform order ASAP as the team store is only open for a limited time, once the team store closes we will not be able to make any additions to the order. While at the team store you will also have the option to purchase fanwear, our uniform and fanwear order is placed together. When both orders are ready our vendor will package all orders and deliver to us so we can bring to the field for distribution before our first tournament.
COACHING STAFF | PRACTICE SCHEDULES | PRACTICE LOCATIONS
Practices start the week of 10/5/20 for all teams! If you are not registered for a team you will not get updates. The emails only get sent to players registered for the season.
*Coaching assignments subject to change*
*Practice schedules subject to change - due to COVID we are working closely with our municipalities for permitting*
PRACTICE LOCATION for teams